Production » Spectrometers and radiometers of radiation » Gamma beta and alpha spectrometer - radiometer MKGB-01 RADEK
Gamma beta and alpha spectrometer - radiometer MKGB-01 RADEK
Purpose
Spectrometer – radiometer of gamma-, beta- and alpha - radiation MKGB-01 RADEK is intended for measuring energy distribution of the gamma and beta radiation, and activity of gamma-, beta- and alpha-emitting radionuclides.
The spectrometer is stationary measurement instrument and is designed for use in the laboratory. The spectrometer is used to measure the activity (specific activity) natural radionuclides 226Ra, 232Th, 40K,222Rn, and artificial radionuclides (137Cs, 90Sr-90Y, etc.) in the soil samples, rocks, vegetation, water, food , building materials, chemical industry materials, alloys, scrap metal and other technology products. Also is used for measuring beta- and alpha- emitting radionuclides in food, biological samples and other materials.
Completeness
Analog-to-digital converter (MCA - multichannel analyser) MD-198 (USB), MD-198RS (RS-485)
Power supplies and gain units SPU-01M for semiconductor detection unit BDEG-K
Spectrometric gamma detection units BDEG-80, BDEG-63, BDEG-150, BDEG-K
Spectrometric beta detection units BDEB-60 (BDEB-70)
Radiometric beta detection units BDB-60 (BDB-70)
Radiometric alpha detection units BDA-60 (BDA-70)
Low-background chambers with shielding for units BDEG, BDEG-K, BDEB, BDB and BDA (on customer choice)
Set of sources of ionizing radiation for energy calibration (on customer request)
Software for full spectrometric analysis "ASW"
Personal computer of any configuration (on customer choice)
Connecting cables and containers for measurement

The following units can be included in the consist of spectrometric complex on separate order:
Printing complex (Automation system of counting samples accounting and marking) Shtrih-3
Features

Simultaneous and selective measurement of beta, gamma and alpha radiation
Software in operating sistem Windows 98/ME/2000/XP/Vista/7 and compatible with spectrometer MKSP-01, radiometer RKBA-01 and GR-1 (and other devices)
Visualization of spectrum measuring process
Conducting of computations during the spectrum measuring process
Measurements automation
The detector in detecton units of gamma radiation used scintillator NaI(Tl) or LaBr3. The detector in detection units of alpha radiation used scintillator ZnS(Ag) with a diameter of 60mm (70mm). In detection units of beta radiation used polystyrene scintillator with diameter 60(70)mm and a thickness 1(10) mm.
Spectrometer-radiometer MKGB-01 RADEK is registered in the State Register of Measuring Instruments of Russian Federation under № 21730-13.
Technical and metrological characteristic

Parameters

Values

Registered alpha radiation energy range, keV

от 2000 до 10000

Registered beta radiation energy range, keV

от 65 до 4000

Registered gamma radiation energy range, keV

от 40 до 3000

Relative energy resolution for energy 661,7 keV for point source 137Cs , %:
- detection unit BDEG-63
- detection unit BDEG-80
- detection unit BDEG-150


not more 9
not more 9,5
not more 12

Energy resolution for energy 1332,5 keV for point source 60Co, for detection unit BDEG-K, keV

не более 2,5

Relative energy resolution for energy 624 keV for 137Cs for detection unit BDEB-60 (BDEB-70), %

not more 15

Integral nonlinearity for detection unit BDEG-63, BDEG-80 and BDEG-150 in energy range from 40 to 3000 keV, %

±1

Integral nonlinearity for detection unit BDEB-60 and BDEB-70 in energy range from 65 to 4000 keV, %

± 2

Full energy peak efficiency for radionuclide 137Cs with energy 661,7 keV on distance 50mm from the upper surface of the detector, %:
- detection unit BDEG-63
- detection unit BDEG-80
- detection unit BDEG-150


not less 1,2
not less 2
not less 7,5

Full energy peak efficiency for radionuclide 137Cs with energy 661,7 keV on distance 50mm from the upper surface of the detector, %:
- detection unit BDEG-K (HPGe)

not less 0,4

Maximum input statistical load, cps

not less 5∙104

Activity measurement range for 137Cs, Bq:
- detection unit BDEG-63
- detection unit BDEG-80
- detection unit BDEG-150
Extended uncertanty on low level of range not more 30% (k=2).

5 - 8·105
3 - 5·105
2 - 3·105

Activity measurement range for 137Cs, Bq:
- detection unit BDEG-K (HPGe relative effectivity 10%)
Extended uncertanty on low level of range not more 20% (k=2).

2 - 1,5·106

Activity measurement range for 90Sr-90Y in reference source 3S0, Bq:
- detection unit BDB-60 and BDB-70
Extended uncertanty on low level of range not more 10% (k=2).

1 - 1,5·105

Activity measurement range for 239Pu in reference source 3P9, Bq:
- detection unit BDA-60 and BDA-70
Extended uncertanty on low level of range not more 10% (k=2).

от 0,05 до 1,5·105

Minimal detectable activity for radionuclide 137Cs, when ambient dose equivalent rate on surface of chamber is 0,2 μSv/h and time of measurement 1 hour, Bq:
- detection unit BDEG-63
- detection unit BDEG-80
- detection unit BDEG-150


not more 3
not more 2
not more 2

Minimal detectable activity for radionuclide 137Cs, when ambient dose equivalent rate on surface of chamber is 0,2 μSv/h and time of measurement 1 hour, Bq:
- detection unit BDEG-K (HPGe relative effectivity 10%)

not more 1

Minimal detectable activity for radionuclide 90Sr, when ambient dose equivalent rate on surface of chamber is 0,2 μSv/h and time of measurement 3 hour, Bq:
- detection unit BDEB-60 and BDEB-70

not more 1

Minimal detectable activity for radionuclide 239Pu in source 3P9, when ambient dose equivalent rate on surface of chamber is 0,2 μSv/h and time of measurement 3 hour, Bq:
- detection unit BDA-60 and BDA-70

not more 0,01

Minimal detectable activity for radionuclide 90Sr-90Y in source 3S0, when ambient dose equivalent rate on surface of chamber is 0,2 μSv/h and time of measurement 3 hour, Bq:
- detection unit BDB-60 and BDB-70

not more 0,2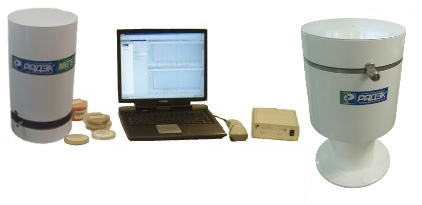 Purchase equipment